Charleston, SC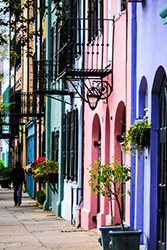 Located on the Atlantic Ocean, Metro Charleston South Carolina is a bustling tourist destination with its natural harbor, clean rivers and beautiful barrier islands with miles of pristine beaches. Bordered by the Ashley and Cooper rivers, Charleston offers residents and travelers a view of stately colonial homes and historic buildings, European-style gardens, cobblestone streets, 17th-Century churches and synagogues, and a few of America's oldest museums.
Often referred to as "America's Best Kept Secret," Charleston SC is one of the country's most historic cities, founded in 1670 and soon thereafter becoming a busy seaport supplying England with rice, cotton, indigo and deer skins. The citizens here have survived wars, fires, earthquakes and hurricanes.
Today, the city is beautifully preserved with awe-inspiring architecture and a picturesque waterfront. Also known as the Tri-County Area or Metro Charleston, Charleston SC has a bustling population of 600,000 people who live and work in the following areas:
• East of the Cooper (Mt. Pleasant)
• West Ashley
• North Charleston
• Goose Creek
• Summerville
Charleston SC island communities offer the ideal place to escape for the weekend or enjoy your summer vacation. They include:
• Daniel Island
• Folly Beach
• Isle of Palms
• James Island
• Johns Island
• Kiawah Island
• Seabrook Island
• Sullivan's Island
If you or a loved one is considering attending college in Charleston, South Carolina, there are excellent public and private schools, as well as graduate and post-graduate programs to choose from, including:
• College of Charleston
• The Citadel
• Charleston Southern University
• Medical University of South Carolina
• Trident Technical College
With its strong economy and growing population, Charleston SC offers plenty of business and employment opportunities. From the U.S. Military to renowned healthcare institutions, Charleston is a city that many people are drawn to for work, but stay because they love living here. Some of the city's top employers include:
• United States Navy
• Medical University of South Carolina (MUSC)
• Charleston Air Force Base
• Charleston County School District
• Roper St. Francis Healthcare
Those considering real estate in Charleston SC have plenty of single-family homes and condominiums within the Metro Charleston area to choose from.
Want to learn more about the Charleston, SC real estate market? Contact us today.
Charleston
October 4, 2023