Edisto Island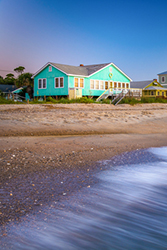 Just an hour's drive south of historic Charleston lays the picturesque sea island community of Edisto Island, South Carolina. Nestled in rural Colleton County, this idyllic waterfront community boasts a rich and colorful history dating back more than 500 years. It's this history and geographic location that makes Edisto Island beach rentals a popular place to explore the rest of what coastal South Carolina has to offer.
Originally inhabited in the 1500s by the Edisto tribe of Native Americans, the island was later explored and settled by Spaniards in the 1600s. This was followed by the English during the reign of King Charles II.
In the 18th century, this coastal barrier island was nearly devastated by pirates, drought, boll weevils, the plague, fires and hurricanes, all of which took a terrible toll on the Native Indians and the European settlers. These natural disasters have long since dissipated and as such, have allowed for Edisto Island beach rentals to flourish in the years since.
Prosperity returned to the region in the 1800s as a result of the demand for rice, indigo and Sea Island cotton. However, the Civil War destroyed many of the plantations and historic homes. Some plantations remain and are listed on the National Register of Historic Places, which continue to be popular tourism sites among those who book Edisto Beach rentals for their visit to South Carolina.
Today, the island boats approximately 3,400 residents who rely primarily on the tourism industry. These same people who book Edisto Island rentals are welcomed by residents, who work hand-in-hand to keep the local economy humming. There are excellent outdoor recreational opportunities, local seafood restaurants, a marina, a golf course and Edisto Island beach rentals currently available.
Are you considering making a move to Edisto Island? Contact us to help with any questions you may have.
Edisto Island
October 4, 2023