Isle of Palms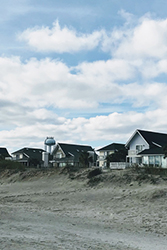 A bustling area full of friendly residents and endless things to do, the city of Isle of Palms is an Atlantic Ocean barrier island surrounded by a salt marsh, the Intracoastal Waterway, the beach, and the ocean along the southern coast of South Carolina. Located just 20 minutes northeast of historic Charleston, Isle of Palms was originally named "Hunting Island" and then "Long Island." Looking at the geography of the region, it's easy to see why that latter name was coined.
The Seewee Indians first inhabited Isle of Palms, greeting the first English settlers to the area. In 1899, the island was purchased by J.S. Lawrence who renamed it its current name due to its cooler climate and picturesque surroundings. After the island was purchased by a developer in the mid-1940s, roads were created and low-cost housing was built. This attracted many World War II veterans returning to the region and that popularity has yet to dissipate, leaving so many looking for Isle of Palms real estate. The famous and beautiful 1,600-acre Wild Dunes Beach and Racquet Club, located on the city's north end, was established in 1972.
The seven-mile long, one-mile wide Isle of Palms offers endless recreation opportunities, including bike and hiking paths, sandy beaches, playgrounds, ball fields, tennis, golf and organized sports.
Isle of Palms is a community that many visit -- and come to stay. While the island maintains its small-town feel with a grocery store and two shopping centers, those looking nearby for shopping outlets, a hospital and numerous banks will find such amenities in surrounding towns. Across the historic beach inlet is Sullivan's Island, where local children attend public school. The school system is well-known for its academics.
Are you interested in Isle of Palms real estate? Contact us today.
Isle of Palms
October 4, 2023
$1,906,000
Med. List Price