Johns Island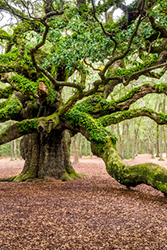 Johns Island is a barrier island off the coast of Charleston County, South Carolina and is the largest island in the state of South Carolina. Johns Island is bordered by Wadmalaw, Seabrook, Kiawah, Edisto, Folly and James islands. The Stono and Kiawah rivers separate Johns Island from its neighbor islands. The Stono River is part of the Intracoastal Waterway system.
Johns Island is the fourth-largest island on the US east coast, surpassed only by Long Island, Mount Desert Island and Martha's Vineyard. Johns Island is 84 square miles in area, with a population of 21,500 people. Almost one-third of the island has been annexed by the City of Charleston.
Johns Island was originally inhabited by nomadic tribes of Native Americans such as the Kiawah, who survived by hunting and collecting shellfish. By the 1670s, white colonists had developed scattered settlements near the water on Johns Island. Maps dating from 1695 and 1711 show plantations established on the banks of the Stono River. During the colonial period, the main crop that was produced was indigo, prized for its rich blue dye.
The Stono Rebellion, which occurred on Johns Island in 1739, began as an unsuccessful attempt by a group of slaves to escape to Spanish Florida, where they were promised freedom.
The American Revolutionary War arrived on Johns Island in May 1779 as a body of British troops under the command of General Augustine Prevost. Charleston surrendered to British forces on May 12, 1780 and the occupation lasted until December 1782.
The Civil War Battle of Bloody Bridge, also known as Burden's Causeway, occurred on Johns Island in July 1864. The site of the battle is off River Road, just north of the Charleston Executive Airport. Around 2,000 South Carolina soldiers held off a Union force of roughly 8,000 men. After three days of fighting the Union troops left the island.
The island is home to the venerable Angel Oak, a live oak tree said to be between 500 and 1,500 years old. The tree is 65-feet tall, but the shaded area covered by its foliage extends over 17,000 square feet! The City of Charleston has established a small park surrounding the tree and operates a visitor's center on the property.
The island is home to scores of wildlife species, including deer, alligators, raccoons, coyotes, bobcats, otters and wild hogs. The rivers and marshes abound with fish and shellfish, especially oysters, and dolphins. The number of bird species is in the hundreds. They include bald eagles, osprey, wild turkeys, owls, hawks, herons, egrets and ducks. The flora is abundant, with many native and imported species as well as agricultural crops.
Want to explore homes for sale in Johns Island, SC? Contact us today.
Johns Island
December 8, 2023