Ladson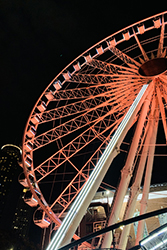 The town of Ladson, South Carolina is located north of North Charleston, south of Summerville, and east and west of SC Highway 78. The Lason Post Office serves residents of three counties - Berkeley, Charleston and Dorchester - and Ladson is a census designated place. However, most of Ladson has been annexed into the town of Summerville and the City of North Charleston since the 2000 census.
The Exchange Park, home of the annual Coastal Carolina Fair and the Coastal Carolina Flea Market, is located just minutes from Charleston and 10 minutes from the Charleston International Airport. Convenient to Interstate 26 (Exit 203, College Park Road) and Highway 78 (Exit 205A), Ladson's Exchange Park is a large events center that draws crowds from all three counties and beyond.
The Coastal Carolina Fair held each October is especially well-known and well-attended. Founded in 1957 and continuously operated by the Exchange Club of Charleston, the "Fair" has as its goal to provide the best available family-oriented entertainment for all ages and to raise money for charities, education and community needs. The 2011 Fair awarded more than $620,000 in grants and scholarships to more than 60 organizations in the Lowcountry!
There are numerous residential communities in Ladson including Tall Pines, Woodside Manor, Heaton Place, Summer Park and the newest, Paddock Pointe.
Of particular importance to Ladson is the presence of defense contractor Force Protection, a manufacturer of military support vehicles designed specifically for reconnaissance and urban operations. The main mission of these vehicles is to protect our fighting men and women from land mines, hostile fire and improvised explosive devices (IEDs).
Would you like to learn more Ladson, SC real estate? Contact us today for more information.