Mount Pleasant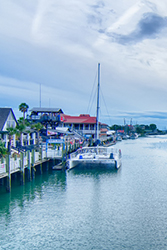 Often referred to as the "pleasant side of the river," Mt. Pleasant is a city of approximately 90,000 residents located across the Cooper River from historic Charleston, SC.
Mt. Pleasant is the third-largest city in Charleston County and the fifth-largest city in the state. Primary access to Mt. Pleasant is made via the eight-lane cable-stayed Arthur Ravenel Bridge built in 2005. The bridge – one of the longest of its kind in the U.S. – offers breathtaking views of the Cooper River and surrounding tidal marshes.
Mt. Pleasant was founded in 1680 by English settlers, but was originally occupied by the Sewee Indians. Used as the secret training ground for the confederate submarine credited with sinking the U.S.S. Huosatonic, Mt. Pleasant now has the Hunley on display at the Warren Lasch Conservation Center in North Charleston, SC.
Owning Mount Pleasant SC real estate was once known as something only wealthy Charleston residents had. The area known as "Old Village" is still the setting for spectacular homes built in the 1800s, with the "Avenue of Oaks's" Boone Hall Plantation serving as the scene for many made-for-TV movies.
Today, Mount Pleasant attracts tourists to Patriots Point, a naval and maritime museum, as well as Towne Center, an upscale shopping center with more than 65 national and local storefronts.
Want to learn more about Mt. Pleasant real estate, historic buildings or fun things to do in the area? Contact Us today to request a tour of one of our listings!
Mount Pleasant
December 8, 2023
$1,025,000
Med. List Price