Summerville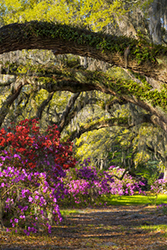 Located just 30 minutes from historic Charleston, Summerville is aptly named the "Flower Town in the Pines" for its blossoming multi-colored azaleas and other springtime flowers scattered among the area's many public and private gardens. Summerville's Dorchester II School District is among the best in the state, attracting many new residents looking for Summerville homes for sale.
Thanks to a robust real estate market, homes for sale in Summerville SC have helped build a population of 33,000 and more than 700 local buildings on the National Historic Register. Here, you will find dozens of historic plantations and public gardens as well as cozy bed and breakfasts ideal for those weekend getaways.
When you think of Southern towns, you probably envision historic homes, Spanish moss-draped trees lining quiet streets and quaint shopping areas. All of this and more is what makes Summerville the quintessential Southern vacation spot -- or living area.
Summerville was discovered in the late 1700s by Charlestonians who sought to escape the rough summer heat, mosquitoes, and disease by moving up the Ashley River. The town survived extensive damage from an earthquake in 1886, followed by a fire that that destroyed the town square. But in the late 19th century, Summerville was nationally recognized as one of the best places in the world for the treatment of lung disorders due to its abundance of pine trees. The turpentine scent that emanates from the trees was suspected of having healing powers. Soon thereafter, the travel industry blossomed to accommodate the influx of travelers seeking treatment. Naturally, the Summerville SC real estate market began its boom not long after.
Want to learn more about Summerville SC real estate? Contact us for help finding your dream home!
Summerville
October 4, 2023